We've got a fresh batch of updates for you ready and raring to go! In this update, you'll see:
A new alert when mentioning @all or @here in a topic
The ability to start DMs with attachments
A new desktop version!
*Note: you will need to uninstall and reinstall the app to use Typetalk v4 for desktop. You can download here!
Alert for @all & @here mentions
In case you need a refresher: When you mention @all in a topic, your message sends a notification to all members of that topic, regardless of if they are online or offline. When you mention @here, your mention sends a notification to all members of that topic who are online only.
This feature makes it easy to send notifications in bulk, but it's important to keep in mind that with every notification you send, you're taking up a moment of each receiver's time.
We've all been in a topic that seems to have irrelevant @all and @here mentions pinging all day, so we wanted to remind users to be conscientious of just how many people they're notifying before they hit send.
Now, when you tag @all or @here, an alert dialogue will prompt you with the number of people who will be notified before sending. This way, you (and everyone you're collaborating with) get the opportunity to double-check that the message is actually relevant to that many people, and if applicable, opt to remove the bulk mention and select individuals instead.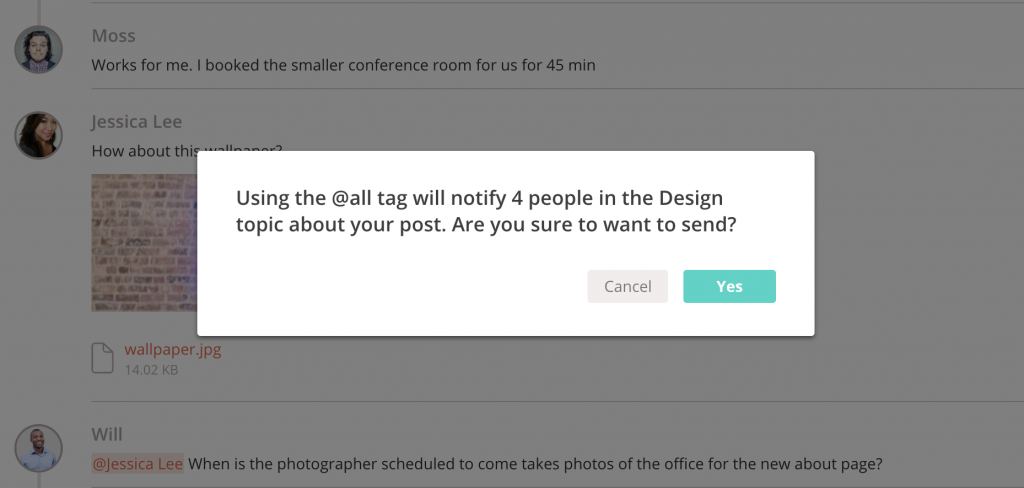 Right now, we've only launched this feature on the web app, but we plan to support it on both of our mobile apps soon.
Start direct messages with an attachment
Previously, when trying to start a new direct message, you had to post some text message first, but now, you can start a direct message with an attachment.
Again, this feature is only on the web app, but we plan to support it on mobile. Plus, we plan to support an API endpoint, too.
Typetalk for desktop v4
Version 4 of the desktop app is here! And we hope you'll be understanding when we ask you to uninstall and reinstall the application. We apologize for the inconvenience! You can download it from the download page on our website.